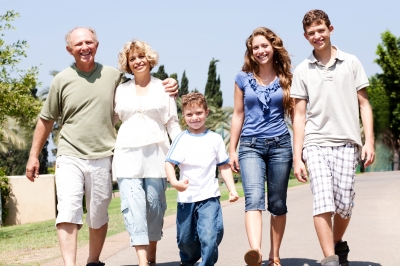 A survey discussed in The Telegraph has found that three quarters of families with young children intend to go on holiday this year with the grandparents in tow.
The appeal of extended family holidays is increasing not only because it is a way to share holiday costs, but also because it can reunite disparate families. Many grandparents do not live in the same town as their grandchildren and therefore do not see them as regularly as they would like. By taking a holiday together they are able to spend time building bonds and relationships in a relaxed and fun environment. Parents find it the ideal situation as they are able to share the childcare with the grandparents and perhaps even their own siblings and take some much needed alone time.
The rise in popularity of websites such as groupaccommodation.com, which offers large homes for holiday lets, emphasises the growing popularity of this style of holiday.
The article in the Telegraph notes that 'Gramping', as this type of holiday has been dubbed, follows hot on the heels of the latest trend of 'stay in the UK' holidays. UK holidays are now in vogue more than ever due to both the increasing cost of overseas travel and the renewed British love affair with the British coast and countryside.
You don't have to watch many hours of TV to see this obssession with the UK in full swing in programmes such as CountryFile, Lambing Live and Escape to the Country. Self catering holidays in the UK are adapting to meet both of these trends and large quality holiday homes are becoming the new holiday hot property.
So, will you be Gramping this year?