Our guests often tell us how much they have enjoyed the different rooms in the house. This guest comment from earlier this year sum them up:
"Thanks again for a brilliant week at Rhumhor; we all thoroughly enjoyed ourselves.
The house was perfect for all our differing needs, from our son at the age of 10 loved the wii (and the pool table) to my Dad who spent his quiet moments practising pool so he stood at least some chance at the nightly family pool tournament!
My sister loved 'her' turret bedroom; our other son at the age of 13, enjoyed his own space in the 'quirky' single room; my Mum, the quiet of the drawing room and my favourite spot was on the half landing.
Everybody was happy and the views were just perfect.
Rhumhor is definitely 'food for the soul!'"
Of course Scotland, being such a green and beautiful country, does experience its fair share of wet weather, so it really helps when you are away as part of a larger group to have the space for everyone to be able to enjoy themselves indoors.
The large family room, with its comfortable Chesterfields, TV & DVD and Wii is a popular place for everyone to gather, while others enjoy the drawing room with its big comfy sofas, stunning views of Loch Goil and log burner. The half landing attracts those who like to sit and read or perhaps catch up with the on-line world on their tablet or smart phone using the free wi-fi.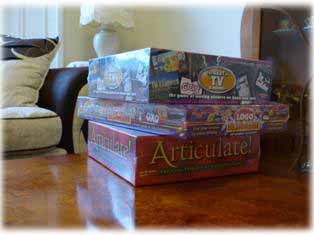 Of course on a holiday or short break you can't beat some time together playing a good board game. In the family room we have always had some of the more traditional games, chess & chequers and trivial pursuits as well as some more 'hi-tech' Wii family games. This autumn we've added some more modern 'low tech' games in the drawing room.
We know it's the little things that count on holiday and we are always thinking of things we can add to the house to make our guests stay extra special and ensure they feel like they are home-from-home.