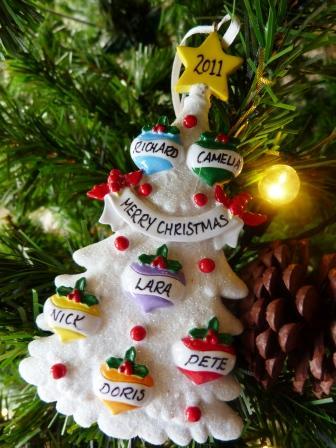 This week I've been unpacking the Christmas decorations here at Rhumhor. Decorating the house for the festive season is one of my favourite activities at the house, I always find Rhumhor truly magical when it is 'dressed' for Christmas. Whether it is putting up the little tree in the dining room or the big Christmas Arch in the family room it always feels exciting.
A Christmas Memory
As I unwrapped ornaments I uncovered a memento from our very first Christmas, a decoration given to us by our first Christmas guests. I still find it hard to believe that was seven years ago!
We feel privileged to have been able to offer Rhumhor as a wonderful home for families to celebrate their Christmas, and we always love hearing how they have enjoyed the decorations and the special festive feel the house has. Our very first Christmas guests came from Glasgow and Spain and spanned three generations and we are glad to know they still have lovely memories of their stay here.
Now as we complete our decorating we look forward to welcoming our guests this week to spend their 2017 Christmas at Rhumhor and we wish all guests, past, Christmas and future the very best time at Christmas.
Merry Christmas from Bill and Martine, Carrick Castle, Loch Goil x