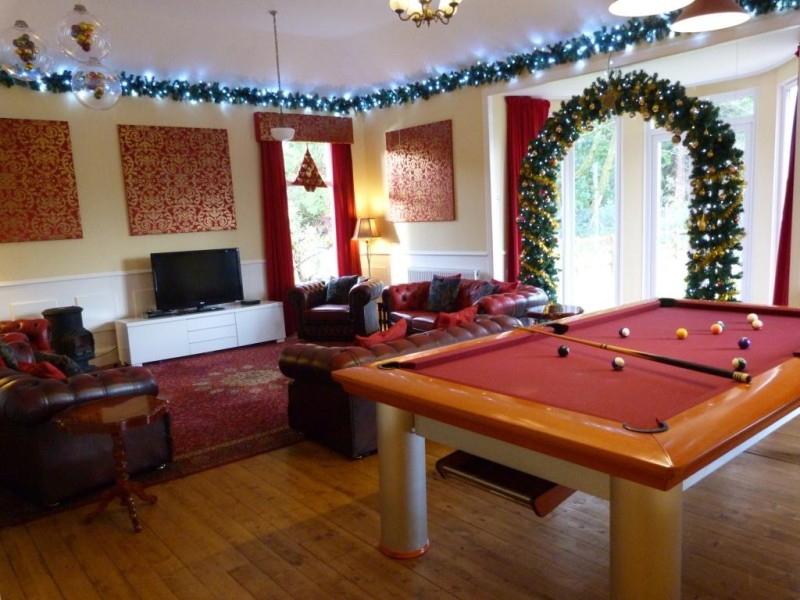 Christmas 2018 is now booked, however you can still book pre-Christmas breaks in 2018 or consider booking Hogmanay here at Rhumhor while it is still available – contact us for more details.
Comments from previous Christmas Guests
"Thanks again Bill & Martine for a friendly warm welcome we have had a wonderful Christmas stay we all thoroughly enjoyed it, the house is stunning and is set in a beautiful location very peaceful great family walks, the family room is brilliant plenty of pool played by all, Would definitely recommend a stay here….Very beautiful house, cosy warm & homely. 5* luxury. Decorated stunningly for our family Christmas hols." The Naithsmith & Brisdion Family
"We came as a get together for xmas and we found a lovely, homely comfortable home awaiting with all decorations and the tree, we instantly felt at home! A lovely festive house where we had a great time. Thank you both, you do a great job!!! Beds comfy, well equipped, all you need for 5 star luxury."
The Terry Family – Glasgow & Spain
Just imagine a different Christmas this year, one that is tranquil and calm. No driving around to relatives, just a time to relax with all the family in a stunning and stylish setting.
Picture this:
The excitement in the air on Christmas Eve, drinks in front of the crackling logs on the wood burner. The mantle filled with holly, ivy and Christmas baubles. The drawing room Christmas tree lights twinkling softly in the bay window, with the loch and mountains as its backdrop. The children trying to guess which chimney they think Father Christmas will use.
Waking to the magic of Christmas morning, excited voices as stockings are found. A glass of bubbly with the one you love as you watch the gifts being unwrapped.
Later, the smells of your Christmas fayre roasting. The dining table set for the feast with glasses just waiting to be filled with Christmas cheer and colourful crackers waiting to be pulled. Then gathering after dinner in the large family room to play a game, watch a DVD movie or some good old Xmas TV. Those that fancy a snooze retiring to the drawing room to enjoy the soft glow of the fire and perhaps a "Wee Dram" or two! After over indulging in festive treats stepping outside into the crisp fresh air of the Scottish Highlands, taking in breathtaking snow capped mountains. Walking hand in hand and dreaming of Christmas past, present and future.
Christmas at Rhumhor does not stop there. You have the whole week in this wonderful house therefore truly giving you the chance to spend precious time together, unwinding and exploring this most beautiful part of Scotland. There is so much to enjoy on the doorstep, cosy pubs, picture postcard Highland towns, fantastic wildlife and nature at its best.
What are you Waiting for?
If this sounds like the Christmas for you then why not contact us now. Our Festive rate includes a fully decorated Christmas Tree and decorations in the three public rooms.
View our Festive Gallery